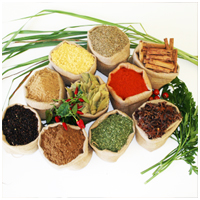 Six Ways to Pump up your Palate
Keep it fresh: You don't have to use fresh; dried can be just as good.  But replace what's in your spice cabinet; herbs and spices lose potency after a year or so.
Start with breakfast: Add spices to apratha fillings (e.g. grated carrot, sugar, cinnamon; cauliflower and garlic) into low-fat yogurt or oatmeal, etc.  Sprinkle cinnamon or grate fresh ginger.
Vary your veggies: You already know to spice up your curries and bhajis with chilli powder, turmeric and garam masala.  Now try spicing up green beans, corn, tinda and tomatoes with parsley, sage, rosemary and thyme for a brand new taste.
Explore international cuisines:  Let other countries inspire you; explore dishes from Indonesia (ginger, galangal), France (rosemary) and Italy (oregano, basil).
Don't forget drinks: Add mint leaves, cinnamon sticks or rosemary sprigs to lemonade or iced tea or to coffee or hot chocolate as the weather gets chilly.
Create daring desserts:  Consider pairing chocolate with cayenne pepper, pears with rosemary and oranges with a basil or oregano sweet syrup.